MARDA'S BALL CLASS – ON THE BALL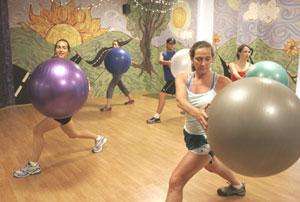 It's no secret that some of our instructors have cult like following at the gym .  And Dr. Marda Kaiser is one of those instructors.  She could teach the art of Spin Bike Maintenance and her class would fill up because she is that good.  She should be – she's been at it for 18 years.  Truly, it isn't just her experience that packs 'em in. Marda just has a knack with fitness classes.  Hers are usually grueling, focused, and punctuated by her incredible humor.  Seriously.
So, this is a ball class, right?  And once you wrap your arms around  a giant exercise ball  to improve balance, flexibility, and core strength, you will be hooked.  Get ready to roll around for 30 minutes, tightening and toning and using one of the fitness world's safest pieces of equipment and your own body to get strong, develop core and increase balance.
Get your body open. Get your body long.  Get your body on the ball.