TRX - SUSPENSION TRAINING
TRX is a full body training system that works your entire body and specifically targets your core
TABATA BOOTCAMP
Tabata boot camp is a personal training workshop
TRX - SUSPENSION TRAINING
TRX is a full body training system that works your entire body and specifically targets your core
INSIDEOUT GYM MEMPHIS
the health club for body, mind & spirit!
FIGHT CLUB (BOXING)
an amazingly grueling workout that gets results - fast!
GYM CLASSES
every week one of our personal trainers conducts a Free equipment orientation
SPINNING AT INSIDEOUT GYM
InsideOut Brought Spinning to Memphis. We wrote the book on this workout.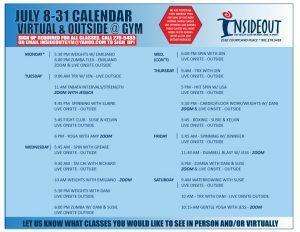 Our world is opening up little by little, but InsideOut continues to err on the side of caution.  We are watching the case numbers and listening to the experts while trying to get back to some semblance of normalcy. We are also operating classes outside while we are in Phase 2.  It is our goal to offer as many outdoor and virtual classes as we have always offered our members.
Many of you are still not ready to "go public" so hopefully we can help you stay fit at home.  We've added six new classes the past two weeks, including another weight class with Jess on Fridays. Call the gym to get on the VIRTUAL class email list.
Appointments are no longer required, but we do recommend calling before you come in to make sure we are not nearing our limit.  Admittedly, we are keeping our numbers lower than what is recommended by the state, and that's simply to protect you and our staff. We are also still selling CBD and you can pick it up in the parking lot at the gym if you are not quite ready to come back. Just call 901.278.5433 to place an order.
CHECK OUT OUR FULL LINE OF CBD OILS/PRODUCTS